Cerrowire Expands to Open Second Production Plant at Morgan Center Business Park in Hartselle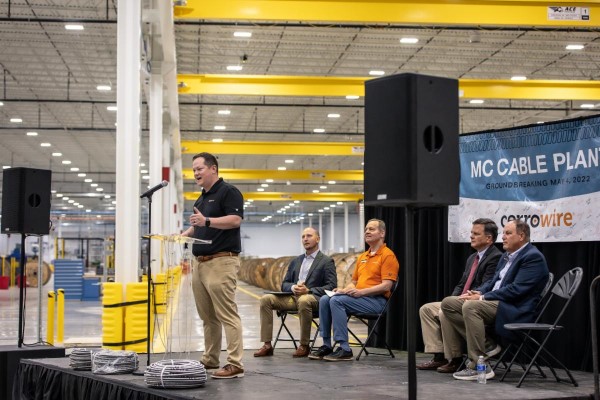 Photo by Rachel Howard - Cerrowire President Stewart Smallwood speaks to the crowd at the ribbon cutting June 13
Hartselle Enquirer -
HARTSELLE — Officials hope the recent opening of a Cerrowire production plant, the first tenant at the 12-year-old Morgan Center Business Park, will lead more companies to locate there.
Cerrowire officials introduced the new 270,00-square-foot MC Cable production plant on Byrd Road at a ceremony Tuesday.
"It's just the beginning," said Cerrowire president Stewart Smallwood. "We have plans to grow much further beyond this."
The plant, which produces metal-clad cabling, is an expansion facility for the Hartselle company and is the first tenant at the multimillion-dollar business park since it opened in 2011.
"We initiated the Morgan Center right after the great recession hit," said state Sen. Arthur Orr, R-Decatur, chairman of the Morgan County Economic Development Association. "Having this facility has been a long time coming."
Other manufacturers have their eyes on the business park, according to Orr: "We're about to invest considerable dollars in creating a 200,000-square-foot pad for another prospect to land."
Developing the pad involves clearing land and relocating a stream to make the space readily available and enticing to would-be tenants. "If the pad is in place, that will shorten the amount of time they need to make a decision and start building," Orr said.
Hartselle City Council member Dwight Tankersley is hopeful the Cerrowire opening will spur more development at Morgan Center.
"I certainly hope this beautiful facility that Cerrowire has built here will attract other industries to this park," Tankersley said.
The MC Cable building, near downtown Hartselle, already employs 100 people, according to Smallwood.
The plant is currently in phase one of a three-phase plan to scale up production capacity, according to plant manager Darrell Wright. Production began in April.
Employees demonstrated production of metal-clad cabling Tuesday by running a wire core through a machine. The cable came out the other end with new metal cladding before being wound onto a spool.
There are 30 machines, capable of producing "probably 750,000 pounds" of cabling per month, according to Wright. "We're looking forward to growing. We're going to start with 30, then 60 and 90 machines."
The metal-clad cabling is sold to customers like Home Depot and InLine Electric, according to Smallwood. "Then they're selling to electrical contractors," he said. "A lot of these new restaurants have exposed ceilings — you see MC cable up in those ceilings."
By the third phase, Smallwood said he expects to have another 25 to 30 employees working at the plant.
Area recruitment for new positions has been positive, according to Smallwood: "We've been finding the people here. This community has been good."
Smallwood said the average annual salary for new employees is just over $50,000.
"Nice company to work for all the way around," said Josh Sullivan, a new cabler at the plant. "Really good job and really good benefits."
In addition to local and state officials, family members of employees were also invited to Tuesday's ribbon-cutting.
In a speech praising economic development in the area, Orr loosely quoted Paul "Bear" Bryant: "Don't wait around for something to happen. Make something happen."
Cerrowire, founded in 1920 as Circle Flexible Conduit Co., has been headquartered in Hartselle since 1983. It also has plants in Georgia, Indiana and Utah. Cerrowire is a Marmon/Berkshire Hathaway company.
The Morgan County Industrial Park and Economic Development Cooperative District controls the business park. The Cooperative District finished Phase 1 of Morgan Center in November 2011.
The original 2009 bond issue for the industrial park was about $16 million. The cost of buying the 135 acres was about $1.8 million. Development costs for the industrial park were about $5.2 million for new roads and utilities. Another $1.3 million was spent to extend water and sewer along Thompson Road in Hartselle to support the park and build a new sewer lift station.
The county refinanced the remaining bond money in 2016, netting about $10.8 million that has been used in additional improvements at the Morgan Center.
In the project agreement entered into with the Cooperative District in 2021, Cerrowire commits to employing at least 81 full-time workers by June 30, 2025, and 131 by Dec. 31, 2029.
The lease amount is nominal, at $100 for a 50-year term, and the company has a right to purchase the land during the lease term.
Related Articles